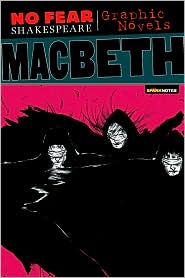 Macbeth illustrated by Ken Hoshine

Three weeks ago if you would have asked me if Shakespeare and graphic novels went together, I would have thought you were crazy. Then a version of Macbeth came across my desk and I became a believer.

Put out by the same people that bring you SparkNotes, this is an illustrated version of Shakespeare's most infamous, whiny hero. Despite having an unnatural attachment to the world's most recognized playwright, I'm from the mentality that plays are best watched instead of read. I've always felt that something was lost or at least missing when I'm holding the script instead of watching the scene. With Hoshine's interpretation, it's as if you are watching the play frame by frame. Forget Cliffs Notes and SparkNotes, this version uses Shakespeare's original text word for word and makes it easier to understand.

If you are having trouble understanding this play, or love it so much that you are looking for a fresh face on this classic, this graphic novel is the way to go.