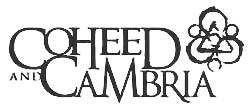 How do they do it? How can Coheed and Cambria continue to amaze me?
So I had Ms. Amy from Young Adult go on a mad hunt for the Coheed and Cambria graphic novels and while she hasn't found them yet (don't worry, we're still looking!), she managed to discover the sheet music for their fourth album, "No World for Tomorrow". Brilliant! This is why it's good to have a librarian for a friend. They can find anything, even the weird stuff. I practically skipped to the hold shelf to pick up my copy. Wait, that's not all. I know all of you musicians out there are wondering what could be better then that, but let me tell you! Apparently, Guitar Hero even has one of their songs as a game option. Even the musically untalented (like myself) can tear it up Coheed style. Who knew? I am so stoked!
Okay, I know I am more then reasonably excited about these developments, but seriously, Coheed and Cambria rocks my socks. This may be the highlight of my week.